Hello! I decided my first post is going to be about my favourite scents at the moment. They are-
Left to right, Chloe, Miss Dior Cherie, Daisy Eau So Fresh (mini), Vera Wang Princess, Valentino Rock and Rose.
I absolutely LOVE these perfumes but my all time favourite has got to be Chloe. It is so light and fresh, i really dislike heavy perfumes that can give you a headache.
Mr.A bought me the Daisy Eau So Fresh the other day, its a mini version (20ml) and comes with a 15ml 'recharge' (as its called on the box) and a little funnel. I thought this was a great idea! The mini perfume is perfect for keeping in your handbag. I love the smell of this, to be honest i dont notice much difference between this scent and the original Daisy, i just chose it for the cute pink bottle :)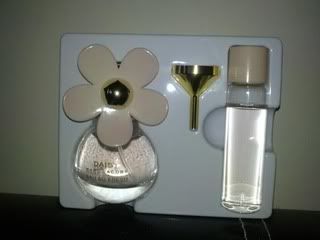 Holli x


What are your favourite perfumes? Can you recommend any i might like?